Whether you're going to your favorite local orchard to apple pick or you're thinking of planting your own orchard, September is the perfect time of year for apples. There are so many different varieties of apples; in fact, there are 7,500 apple varieties that are grown in the entire world and about 2,500 varieties grown in the United States.
All these different varieties can make it hard to determine which ones you should buy for eating and which ones you should use for your favorite fall recipes. Making your own pies, crumbles, apple chips, and more can be a lot easier (and tastier) if you know which varieties are best for each type of dish you might be making this fall.
Well, luckily we have the perfect guide to make your recipes even more delicious than ever before.
Tasty Apples You'll Eat to the Core
Who doesn't love a delicious apple to snack on? The best varieties of apples for snacking on or packing in school lunches are going to vary based on your personal preferences. Some sweet apple choices that are great for this option are Ambrosia, Pink Lady, Fuji, Empire, McIntosh, Golden Delicious, Red Delicious, Honey Crisp, Gala, Crispin, and Rome Beauty. Some tart apple choices include Stayman, Idared, Granny Smith, and Cortland.
Great Apples for Pies and Crumbles
The apple varieties that taste wonderful when baked in a pie or crumble are numerous. These include Baldwin, Reinette, Cortland, Golden Delicious, Granny Smith, Sweet Tango, Rome Beauty, Braeburn, Cameo, Fuji, and Jonagold. Golden Delicious may be the best variety for you to use in your pie recipes, as they tend to soften a bit more during the baking process.
Tip: Galas are tasty in many ways, but they can turn rubbery when baked, so this is one to avoid for your pie's sake.
Making Your Own Applesauce, Apple Butter, and Juice
Why not have control of how much sugar and what apples go into the applesauce your family enjoys? The same goes for apple butter or juice. Some great varieties for these recipes are Cortland, Gravenstein, Fuji, Gala, Pink Lady, McIntosh, Jonagold, and Honeycrisp.
Tip: Keep in mind that if you do come across a Gravenstein, they don't keep well, so be sure to eat or use them in a recipe rather quickly.
Tasty Apple Chips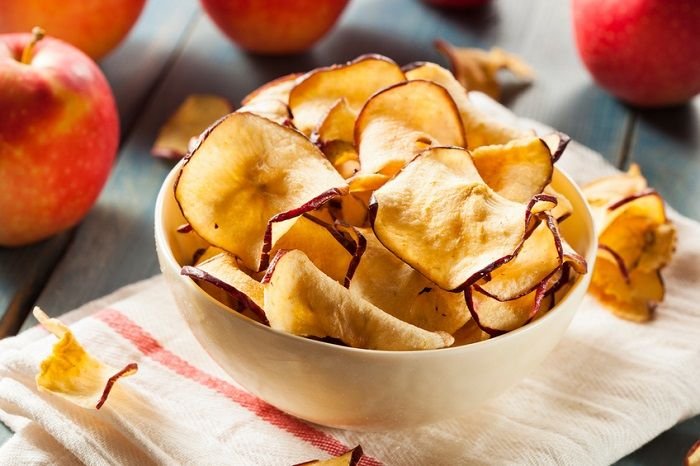 Just about any apple variety that you enjoy eating raw will make great apple chips with a few exceptions. Apples like McIntosh and Golden Delicious that are not very firm might not do well if you're looking for crispy apple chips. Softer apples also will not cut easily when you go to make your slices.
There are lots of recipes for making these online, but a simple way to make your own is to core and then thinly slice your apples. Put them down on a cookie sheet covered with wax or parchment paper in a single layer. The paper helps to keep them from sticking to the sheet and sprinkle with cinnamon sugar or other seasoning based on your preference. You'll then bake them on low heat until they reach the crispness you're looking to get with your chips. These chips store well in Tupperware containers if they last long enough to be stored.
Apple Picking Tips
If you are visiting an orchard, be sure to speak with someone that works there about what apple varieties have been grown and what ones are ready to be picked. Also, find out what the orchard's policies are for picking; some orchards will let you eat as many apples as you want while picking, so this will give you a chance to taste test which varieties that you want to take home with you.
When picking apples, you'll want to select ones that don't show any bruising and ones that feel firm to the touch. Don't just pull the apple straight from the branch; give the apple a little roll and twist off the tree. This will help you from shaking the branches and the tree. It's OK to pick up any that drop from the tree as you're picking; just be sure to put them carefully into your bucket, bag, or basket, as repeatedly dropping them may bruise them causing to go bad faster. You should also try to keep the stem on the apple, as some believe this helps them to store longer.
Have fun picking, cutting, baking, and more with the apples you choose. Your family and you will love having fresh apples and peanut butter or homemade juice to enjoy.